The story of how Island Life Lures came to be. As a young boy growing up, like so many others I gravitated to sports and hobbies. Baseball was the first and the second was fishing.  Of the two, I could never imagine in my wildest dreams that fishing would become the addiction I would not be able to shake.
My youth
It started off small. Every chance we got, our mom or dad would take my brother and me down to the bayside to go fishing off the rocks. The thrill of a fish tugging the line was an adrenaline rush for us like no other.  Over the years the addiction grew, and my brother and I started surf fishing at beaches, fishing off wharfs and jetties at the local Marinas. Our father was an avid recreational fisherman himself and, on occasion, there would be the family Sunday fishing trips on route to the beach aboard our dad's single screw 20ft cuddy cabin.
As the addiction grew, I would seek out every opportunity to tag along with POPS when heading down to the local marinas to hang out. I kept tabs on other recreational fishing trips and vividly remembered drooling over the local sport fishing charter boats returning to port with their catches. We would not miss coming down to see the weighing in of catches at the local deep sea fishing tournaments on the Caribbean Island of St. Maarten where I was born and raised.
Fishing wasted no time becoming my lifeline, reading fishing magazines, watching fishing shows on TV and even watching the ''Murray Brothers'' deep sea fishing stories and techniques on my parents' VHS. As I continued to learn the sport and study its techniques, I was fortunate to spend a lot of my early years with the casual fishermen on St. Maarten and the inter-island community of fishermen. As a teenager I studied the patterns of the different pelagic species and remained curious as to how and why a fish would bite a lure.
My later years
Throughout teenagerhood and into the early years of adulthood, I on several occasions received invitations to travel along with fishing teams to neighboring islands to compete in sport fishing events. This became the norm, with annual events such as The Antigua and Barbuda sport fishing tournament, The Nevis fishing tournament and The Saba day wahoo tournament, all of which to this day have a piece of my heart.
Over the years, several seasoned skippers and fishermen allowed me to help by cleaning their boats upon their return from a long day of offshore fishing.
While debriefing with friends and loved ones over a drink, I would listen to fisherman tales that took place and of course of those big ones that got away.  Without hesitation I was curious to know which combination of shape and color of lures was the preferred choice of each pelagic species.
As a teenager/ young adult, I was lucky enough to meet numerous boat owners and skippers both local and those of the neighboring Islands, creating a rather large network of fishing buddies and allies, relationships that I enjoy to this day.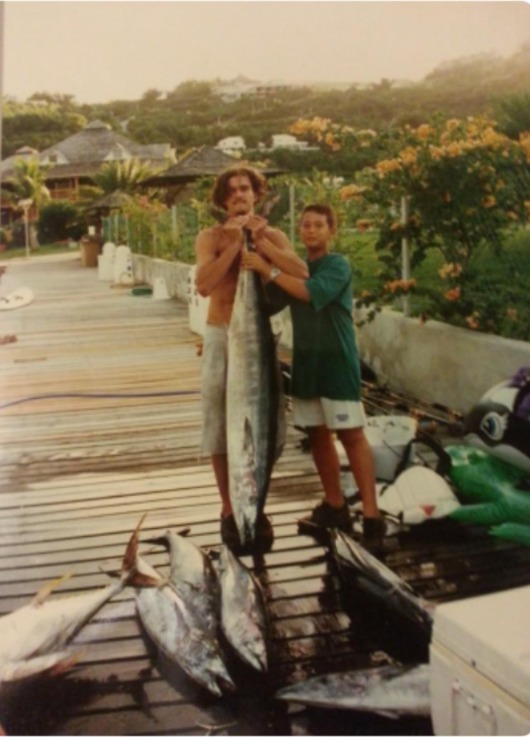 The theory behind the lures
Of those many fishing trips with pops, uncle Slim, and many others,  I fondly remember watching the spread, monitoring each lures' behavior  and being amazed at how fish would attack them.
Over time the questions grew more in depth to what type of lure, which trolling speed, with or without lead, shock cord or not, should it run straight or from the short/ long rigger etc.
I studied the behavior of the species which allowed me to zone into what type of bait and swimming action appear be their preference.
Frequently looking through catalogs/magazines for lures, not to mention always roaming the local tackle shops.  It was very difficult for me to get rid of older lures as I always seem to find a way to modify existing ''hand me downs'', by spicing up existing name brand lures.
This encouraged me taking that leap of faith to design and build my own version of the perfect lures, In 2020 Island Life Lures was born.
The purpose of Island Life Lures is to provide all avid weekend warriors with affordable offshore lures that produce results.
No matter what they may tell you, every sport fisherman out there has his/her own preferred theory of how it should be done.
This is my Island Life story. My theory and vision is reflected into each design.
#IslandLifeLures #FishingisLife #SaltLove #Born2fish #tightlines